House activity - Earth Day
Dated : 20 April, 2019
In the month of April, a house activity was conducted in the school for celebrating Earth Day.Grade 1 and 2 did art work,Grade 3 to 6 students did creative writing(poem,paragraph writing,short essay etc), Grade7 to 10 students made beautiful posters and wrote slogans on given topics. Saahas house students were given the topic-Noise pollution, Sanyam house-Land pollution, Vivek house-Water pollution and Nyaya house-Air pollution. The house boards were displayed accordingly.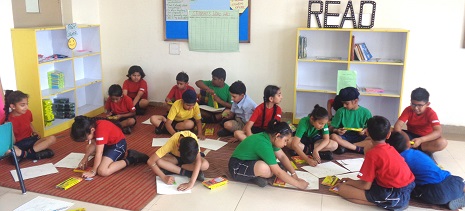 INTER HOUSE EXTEMPORE COMPETITION
Dated : 14 February 2019
An Inter house extempore competition was held in the month of February 2019 at the school. Grade 1 and 2 had their Show and Tell competition. Grade 3 and 4 spoke either on "Seasons" or "Festivals". Topics given to Grade 5 and 6 were "If i am stuck in a forest..... " or "If i had a magic pen...". "Harmful effects of social media" or "Importance of Life skills...." were the topics given to Grade 7 to 9. All the four houses namely Nyaya, Sanyam, Vivek and Saahas participated enthusiastically.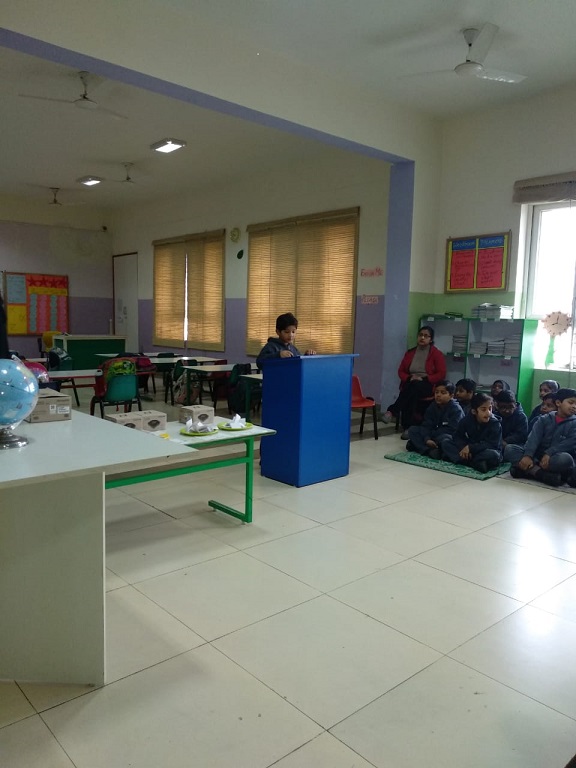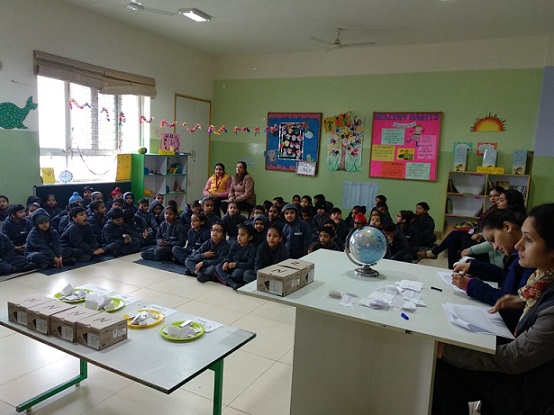 INTER HOUSE EXTEMPORE COMPETITION
Dated : 18 January 2019
An Interhouse "Extempore competition" was held between classes 3 and 4 . All the students participated and were judged on different parameters. The topic given to them were- Clock, My best friend, My favourite book, My favourite game and My school. The topics were written on the chits. Each student were ask to pick up one chit and had to speak about the topic they got. In this, Saahas house got 1st position, 2nd was Vivek house, 3rd was Nyaya house and 4th Sanyam house.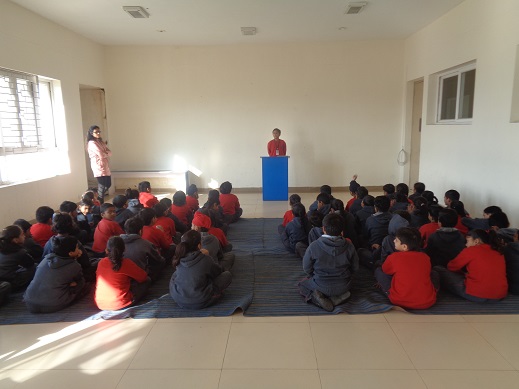 INTER HOUSE POETRY COMPETITION
Dated : 16 January 2019
An Interhouse "English Poetry Competition" was held between students of classes 5 and 6. One participant was there from each class of each house. The topic given was "Respect". Nyaya and Sanyam houses shared the 1st position while 2nd position was shared by Saahas and Vivek houses.
An Interhouse "Hindi Poetry competition" was held between students of classes 7 to 10. The topic given was "Veer ras".One student from each house was a participant from these classes. Sanyam house got 1st position, Nyaya house was 2nd,vivek house got 3rd and Saahas house got 4th position.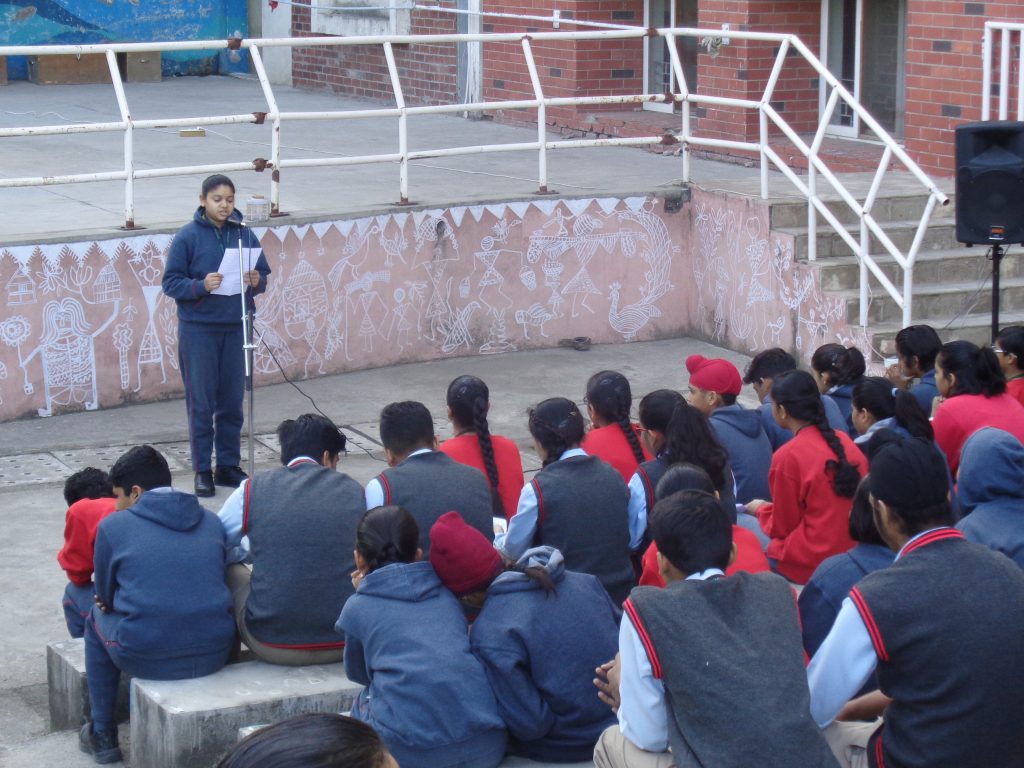 INTER HOUSE RANGOLI MAKING COMPETITION
ATS Valley School conducted INTER HOUSE RANGOLI MAKING COMPETITION for Grade 5 - Grade 10 at their school campus. All the four houses namely - Vivek, Nyaya, Sanyam and Saahas enthusiastically participated in the event and the school was looking resplendent with colors.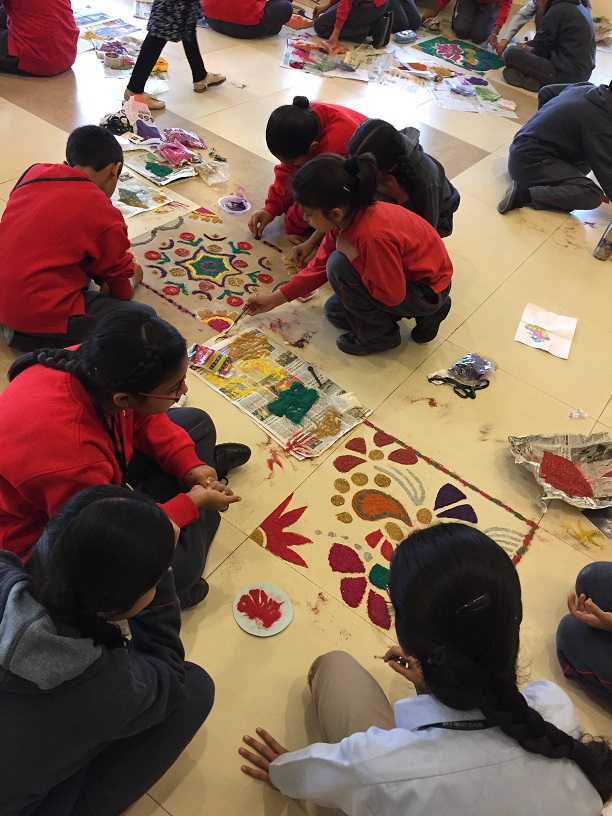 Story Writing
Storytelling is an age old practice which is used till date to communicate and connect with masses. It is a powerful tool as it provides ideas to identify important details and comprehend better. With this thought, our school ATS Valley, Dera Bassi organized a storytelling and story writing activity as a part of an Inter House Activity on Saturday, 18th of August. For this, the classes were divided into four groups:
Group A - Classes 1 and 2
Group B - Classes 3 and 4
Group C - Classes 5 and 6
Group D - Classes 7 to 10
Storytelling activity was done with Group A. Different stories like Ugly Duckling, Tsomo and Momo were said with their morals. The children enjoyed a lot. Groups B, C and D wrote stories. Age appropriate opening lines were given to them. They had an option to write the story either in English or in Hindi. Word limit was set for the groups. Group B - 100 words, Group C - 150 words and Group D - 200 words.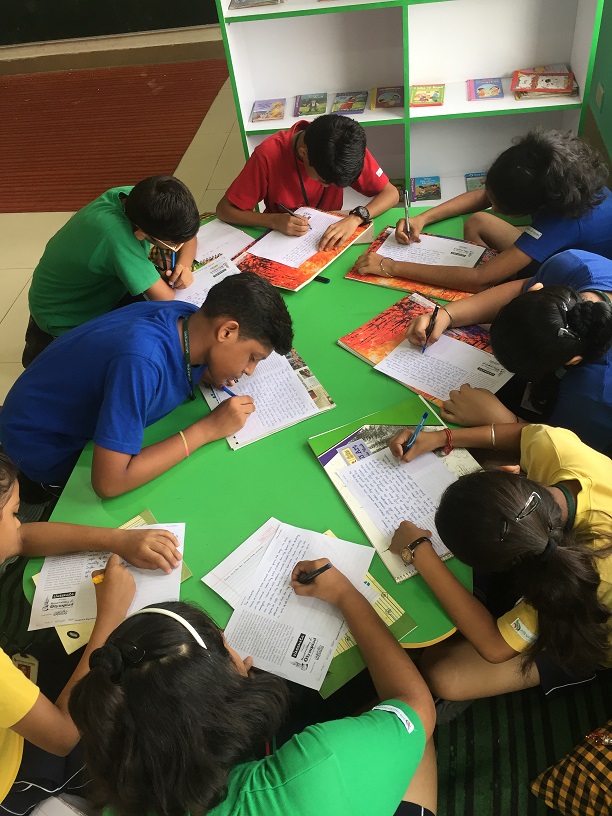 Say "NO" to PLASTIC
The inter-house competition was held in the school in the month of July. All the students of Grade 5-10 participated in the event. The topic was 'Say no to plastic'. The concern of plastic bag towards the environment is very huge and it cannot be ignored. All the students enjoyed this event and some of them made very nice posters on the given topic. Some students did the slogan writing on the same. The idea was to encourage the students to be sensitive towards the environment.