ATS Valley's curriculum for primary years' program aims at developing confidence and an understanding of children's own strengths. Our curriculum is firmly grounded in our commitment to developing the full range of every student's inherent aptitudes like moral, spiritual, linguistic, logical, personal, social, cultural and physical. We nurture the students in such an environment where they develop their own creative knowledge. We also help them in developing skills and competencies such as educational, technological, problem-solving to lead successful lives in today's highly globalized world.
The primary year's program is deliberately designed to help children develop independence and respect as they learn so that they are prepared to embrace the opportunities that are present. And as the child grows and moves through higher levels of education, it is these learning skills that will be critical to their success. At a very young age, our children are immersed in thrilling adventures, where, with every rush of adrenaline, their confidence grows. There are various strategies we use to shape our children into confident young adults. It starts with an assembly roster. Every child from Grade 1 onwards has to, by design, speak in the assembly- a poem, a story, a Doha or anything relevant to the occasion. Research says that the most common fear in the world is that of public speaking. It is our commitment to help every student overcome that fear and the results of our efforts are all too evident.
We also have a Theatre programme. Children from the Theatre group perform in front of the school on a regular basis and of course on the Annual Day. Children from Grade 1 onwards prepare small plays, which are then presented during lunch breaks.
We have adopted a child-centric approach and our curriculum is based on the theory of Multiple Intelligences. Therefore we promote different areas of learning to keep in mind the fact that every child learns in a different way and at his/her own pace. In order to achieve this aim, we have introduced the "EDUCATION LAB" or "THE LEAPFROG PROGRAMME" for our students in Grades 1,2 and 3.
At the end of each month, a monthly academic update (MAU) which lists the learning outcomes that a child has acquired by the end of a particular month is handed over to the parents in writing. The knowledge, understanding, and skills attained by a student on each topic are evaluated in an ongoing and regular process. The assessment of student's learning is made through regular teacher-student interaction and on the basis of activities that take place both in and out of the classroom.
How to deal with Emergency Situation
Class 1 of ATS Valley School, Dera Bassi has done Ambulance making activity in the class where the kids have learnt about the "I want to be' their ongoing topic of English. Children made this by paper cutting and pasting, they made tyres, windows and sign of cross and learnt the importance of emergency situations and when and how to call ambulance. The focus was on doing the things practically as they leave an impact on their mind as there is a well known saying that "I hear and i forget, i see and i remember, i do and i understand".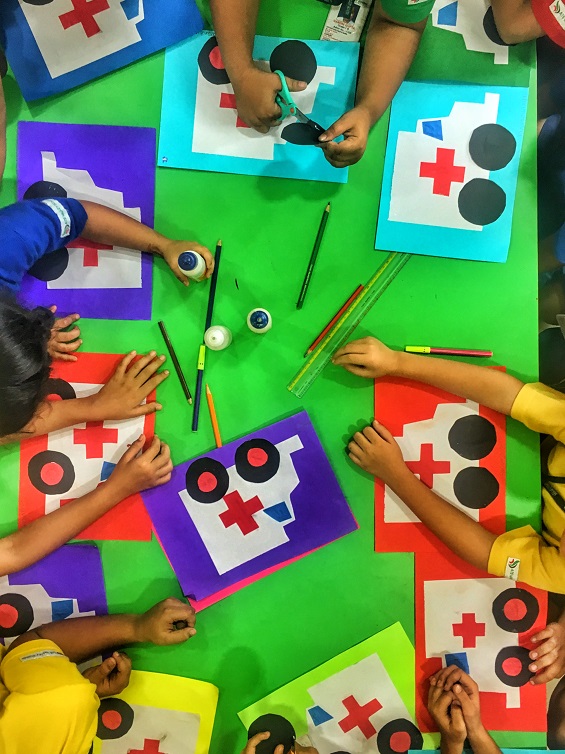 Paper Dance Activity
The Students of Grade 4 participated in the Paper Dance Activity. Following the age-old tradition of Paper Dance, the students were taught about the concept of Fractions. Where one fold of a paper made one-half, two folds of the half made one-fourth. Along with elucidating how fractions were made, the students also learned about the addition and subtraction of the fractions. The activity made clear the concept of fractions for the students. The paper dance made learning of fractions fun & Interesting.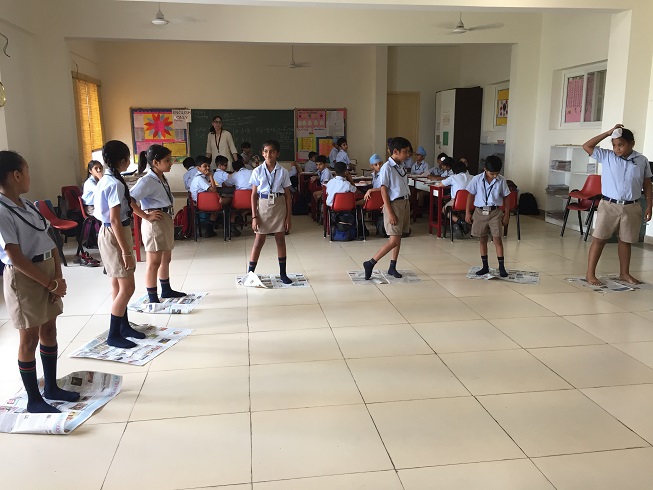 Science- Activity : Digestion of Food
The students of Grade 4 of ATS Valley School, Dera Bassi were taught about the digestion of food in a human body via live visual representation of the process. Some food items (solids and liquids) were mixed and mashed in a polythene bag to give them an idea of food digestion that takes place inside a human stomach. Along with that, they were also taught about the length of small intestine and large intestine and further the whole process of digestion & excretion of human waste. The kids had a great learning experience by this visual representation of the digestion process.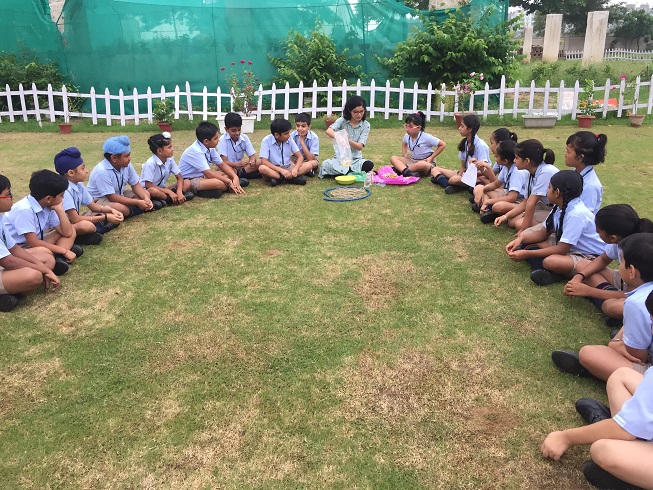 Rakhi Celebrations
On the occasion of Rakhi , students of Grade 1 of ATS Valley School, Dera Bassi made their own rakhi with paper cutting,wool and coloured cotton balls.They were taught the importance of Rakhi celebration by the teachers.Students were very excited while making their own Rakhi and carry it to home. They made face of a Kitty in the class with the help of paper plate and paper cut outs.They were taught a poem on Little Kitty in the class.To make the teaching more effective the art work was done in the class to make the lesson interesting and clear to the students.
Tooth Activity
The students of Grade 4 of ATS Valley School, Dera Bassi did an activity on teeth in the class. The activity involved cutting papers in shape of a tooth on which students pasted slips of information appertaining to teeth. It included answers to questions like – What foods are good for our teeth? , What foods are bad for our teeth? , How are teeth useful to us and How can we keep our teeth healthy? It was a very insightful & informative experience for the kids along with a little creativity.

Boating in Monsoon
Instead of confining them to their classrooms, the students of Grade  3 were brought out in open by their teachers with their paper boats to enjoy the playful rainy weather when it was raining cats and dogs.
Field trip to a Museum
The students of grade 3 and 4 went to a field trip on 19.7.2018 to the Government Art Museum and Natural History (science) Museum in sector 10, Chandigarh.
Visit to the Zoo
Zoo is a great attraction for children. Students of grade 1 and 2 of ATS Valley School, Dera Bassi visited Chhatbir Zoo, which is one of the main attractions near Chandigarh.
Life Skills & Attributes
Gift Wrapping Activity
Nothing says love and care like something created with your own two hands.And especially, when the same is done by our little ones. The Students of Grade 2 of ATS Valley School, Dera Bassi , learnt the life skill - wrapping a gift. They learnt how to wrap a gift neatly. They wrapped the gift boxes themselves and surprised each other. Such life skills helps in the overall development of the child by making them more smart and confident.

Nail Clipping
Nail clipping being a very important life skill was taken up in Grade 3, as this age being apt to learn this skill. It was made more interesting by asking the students to wash their hands before clipping the nails off,thereafter explaining them that the nails become soft after washing hands, hence it becomes easy to cut them. Also it is generally recommended to trim the nails after taking a shower because at that time the nails become extremely soft. The students enjoyed the activity and they learnt the skill along the way.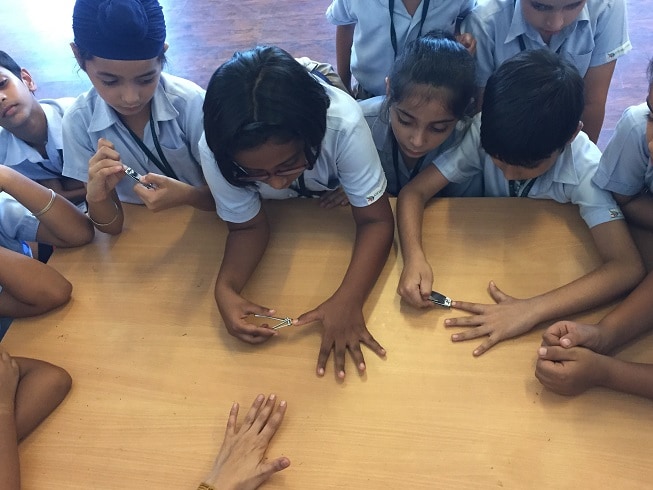 Laundry
Skill development activity (Washing clothes) is successfully completed for grade 4th on 18th May,(Friday). All students participated very actively and shown interest in this, activity performed using washing surf and Handkerchief. It's guided how to dry & fold clothes along with guidance on hygiene part for our body health.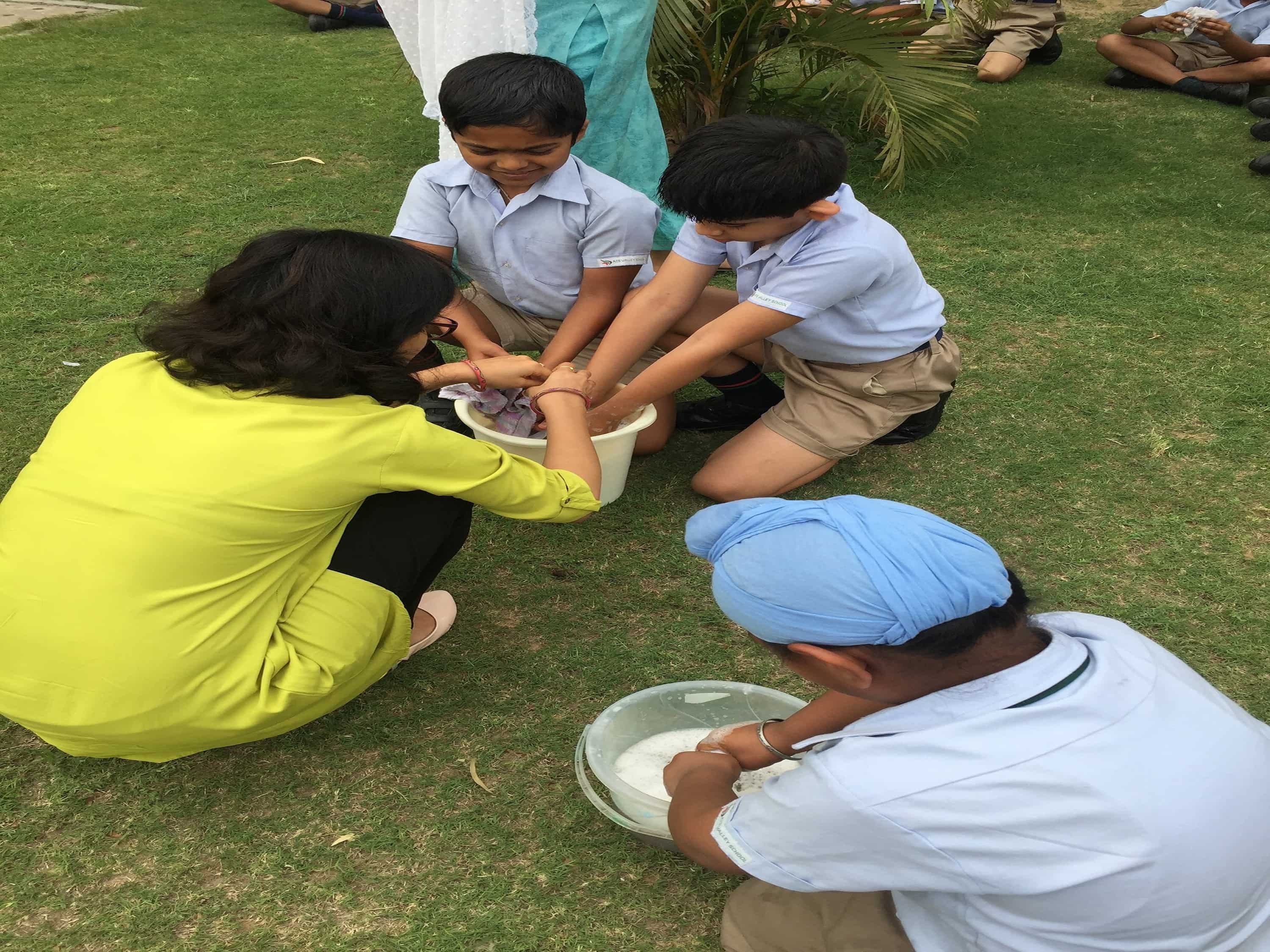 Special assembly on Hindi Diwas
ATS Valley School, Dera Bassi conducted a special assembly on the occasion of Hindi Diwas. Students participated in the cultural programme which included recitation of poetry, Hindi speech, Dohas, Oath, Thought of the day and a Skit in Hindi.
Masti ki Paathshala
Students of grade 2 performed Masti ki Pathshala with great enthusiasm. They were very excited and worked very hard with their efforts. The topic was – we need shelter.