Intra School 'Picture Describing' competition - Grade 2
Dated : 6 September,2019
The 'Picture Describing' competition was held among the students of grade 2.They were shown the different pictures on projector and they had to describe them.Each child was given a minute for the same.They were judged on the basis of parameters like clarity,confidence,voice modulation and content.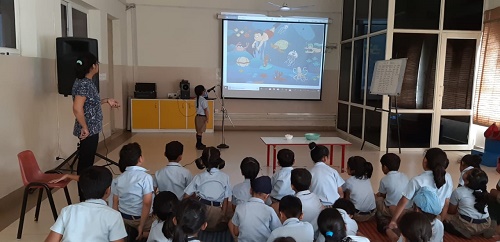 Intra Class Quiz competition - Grade 3
Dated : 21 August, 2019
Grade 3 organised an intra-class quiz competition to emphasise on the improvement of the intellect and General Knowledge of the students.It was an inter-section competition held exclusively for class 3 students. The quiz was held in a very interactive way and the teams participated with great enthusiasm. They skillfully answered the questions asked. Though some of the questions were very tricky, the teams tried to answer them with confidence. The students displayed ecstatic spirit and enjoyed the quiz to the fullest.
Intra School "Show & Tell" Competition- Grade 1
Dated: 18 August, 2019
Students of Grade 1 participated in Show and Tell competition. They were given random objects and were asked to speak 4-5 sentences on the same. The students were judged on various parameters like confidence, content, fluency.