Fire Drill
Dated: 17 August 2019
A fire drill was conducted at the school to make the students aware of the harmful effects of fire and how to deal with it in a fire situation. Some officials from fire department came to our school to carry out the mock drill, the mock drill was conducted successfully along with the members of Disaster Management Committee of our school. The students of grade 10 were taught how to use a fire extinguisher in case of any fire emergency. The officials also talked about the actions to be taken if fire breaks out. The officials from the fire department come to our school once a year to conduct the fire drill.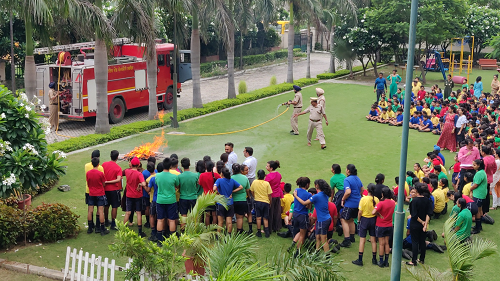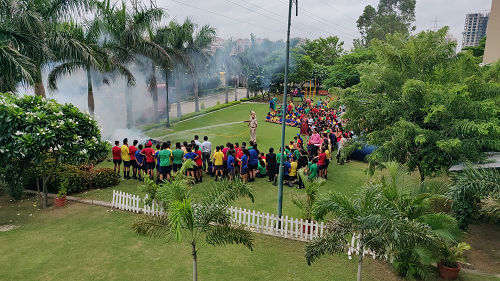 Visit to Meteorological Center, Chandigarh
Dated: 7th August 2019
The students of grade 6, 7 and 8 went to meteorological center, 39D Chandigarh.They got to know how the temperature is forecasted and recorded, they also saw the various instruments used in the process like Anemometer, Sunshine recorder, wind vane, Stevenson's screen, Evaporation pan, Self recording rain gauge, soil thermometer,rain tipping bucket and automatic weather station.It was a very knowledgeable experience for the students.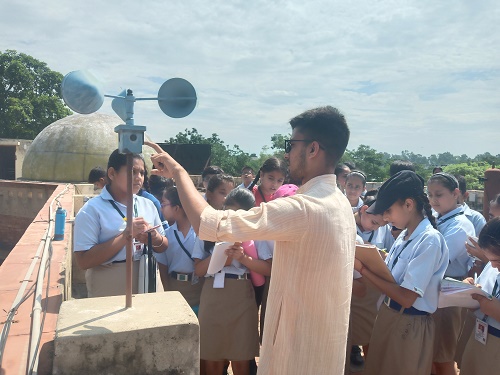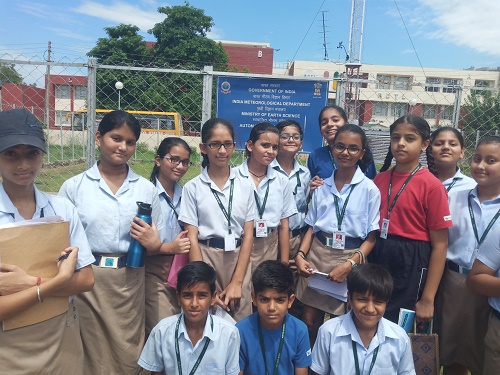 Visit to Radio Mirchi Station
Dated: 31 July, 2019
The children of grade 9 and 10 visited Radio Mirchi office in Chandigarh. They got to see the consoles, mics and other equipments that are used to relay transmission. A sneak peak into how a line radio station works was pretty amazing. The technicalities and the complications of line communication medium the fancy of all the students and teachers as well.
Visit to the Natural History Museum
Dated: 18 May, 2019
Students of Grade 2 and 3 visited the Natural History Museum, Sector-10, Chandigarh. It is a Museum with dioramas depicting early humans, dinosaur models, fossils and other geology specimens. The students saw a great collection of fossils, art and sculptures. Pictures regarding the evaluation cycle of men were shown to the students. After coming back to school, the students did a Draw and Write activity in their respective classes.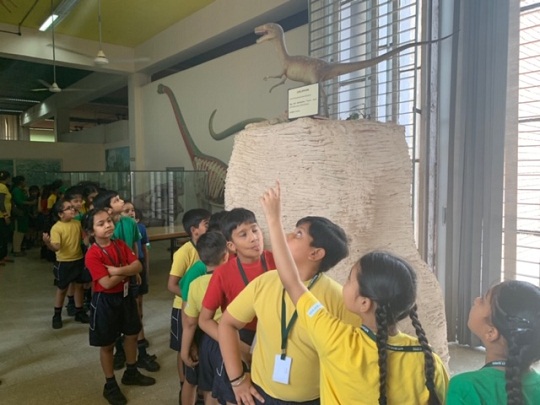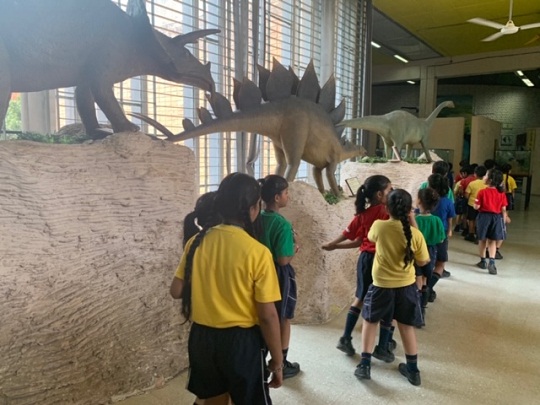 Visit to Axis Bank
Dated: 10 May, 2019
Students of Grade 4 & 5 visited Axis Bank, Dera Bassi. The purpose of the visit was to make the students aware of the various digital channels available in banks these days. Presentation on the same was shown to them before the visit. They were explained the benefits of digitization. They also learnt that how the digital channels help in reducing human errors as well as save  time of the customers. They were shown the various machines like Speed Banking, Passbook Printing Machine, Cheque Deposit Machine and Cash Deposit Machine.
Trip to Baddi- Richfeel
DATED: 04 May, 2019
Students of Grade 7, 8 & 9 had a great learning time with Richfeel Company,  Baddi. The students were showcased the process of making shampoos, oil, moisturizing creams and face packs.  They did a deep analysis of cosmetic based products and its making. It was truly an effective way for the students to learn , as it generated keen interest among them. The students appeared enthusiastic by observing things and curiously asked many questions.  It was a great place to visit and provided true learning to the students.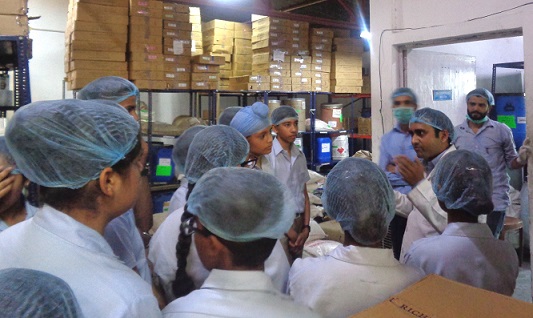 Visit to Tribune Press
Dated 16 November, 2018
Around 80 students of Grade 5-9 of ATS Valley School, Dera Bassi along with teachers visited Tribune Press. They saw the printing of the newspaper and understood well the mechanism behind the printing press.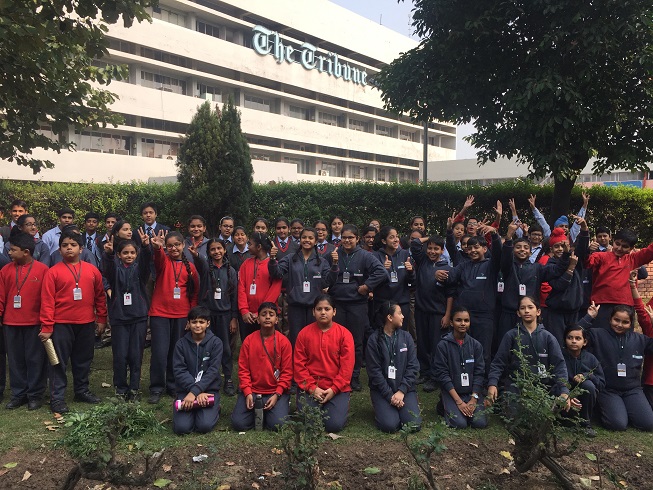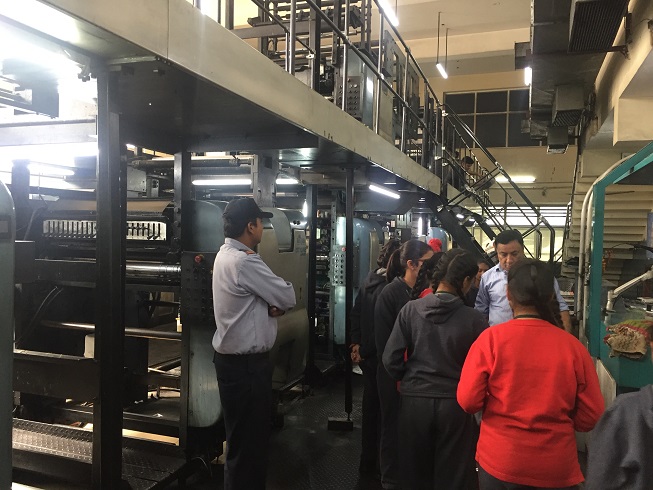 Visit to the Zoo
Date: September 24, 2018
Zoo is a great attraction for children. Students of grade 1 and 2 of ATS Valley School, Dera Bassi visited Chhatbir Zoo, which is one of the main attractions near Chandigarh. The students were very excited and eagerly waiting to see the different kinds of animals. They saw Bengal Tiger, Elephants, Panthers, Monkeys, Hippos, Zebra and many more. They also went to the snake house. Various kinds of snakes were kept inside glass enclosures along with different species of cobra, python and many other snakes. They were frightened to see the crocodiles. The huge crocodile was lying on the sand beside a pond. They also saw Crane, peacocks and many other birds. Finally, they returned back to school with a joyful heart.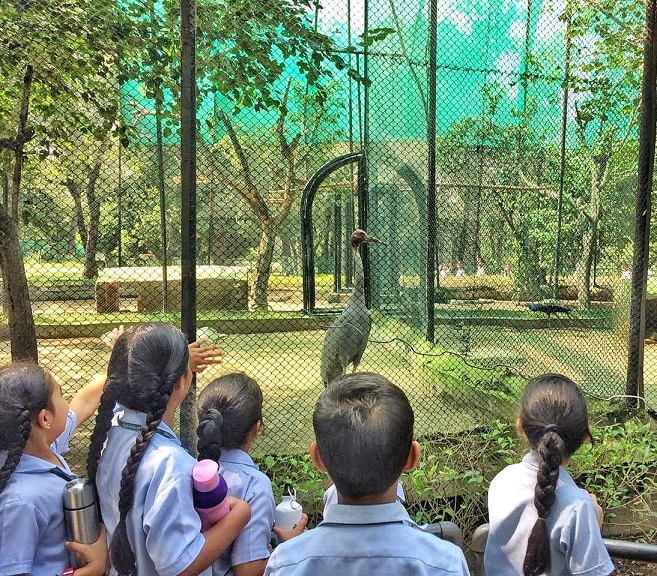 Trip to Ambala : College of Engineering and Applied Research, ACE
The students of Grade 8-10, ATS Valley School went on a trip to Ambala College of Engineering and Applied Research, ACE on Thursday, 13th of September 2018. The students received a warm welcome by Administration of ACE and also an extremely well learning environment. They had prepared a detailed plan of what they had to show step by step. They showed the students Animal House of their college where biotechnologically engineered rabbits and mice of variant strains were kept. Students also learned about how four stroke diesel engine and single cylinder diesel engine works. Students themselves got their blood groups tested as they learned how blood grouping is done via agglutination. They also learned how DNA is separated on the basis of size via the process of Agarose Gel Electrophoresis along with its amplification via Polymerase chain reaction, PCR and visualization under UV rays due to the presence of Ethidium Bromide. They also showed cardiac muscle and human nerve cells under microscope.Students have been studying tissue culture and in vitro growth of plants in theory, they got to see that all in real this time. At the end, refreshments were given to students.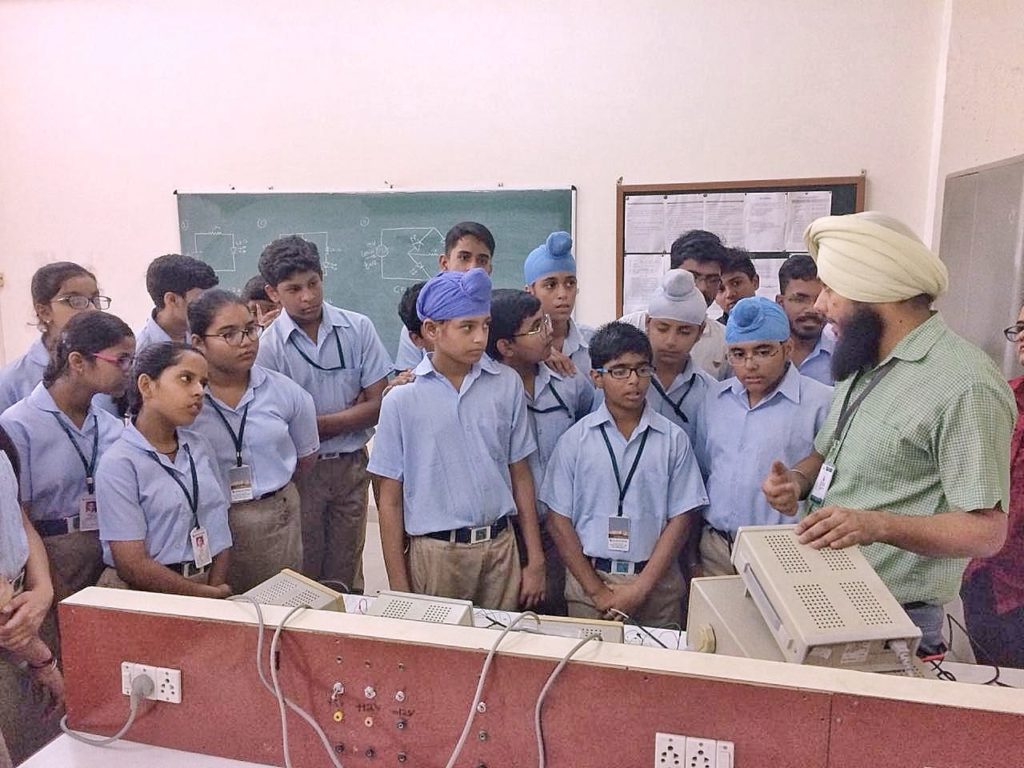 Visit to Central Museum and Art Gallery (1.09.2018)
Students of grade 6 to 9 of ATS Valley School, Dera Bassi went on an educational trip to Central Museum and Art Gallery, Sector 10, Chandigarh on 1st September, 2018. Being keenly interested to see the antique paintings, art objects and diversity of historical objects, they seemed to be very excited for the same. The administration of the museum provided us with a guide who consistently explained the things like cyclorama of origin of life, paintings, sculptures and ornaments. The guide also showed the students Child Art Gallery which displayed paintings made by disabled children, detailed exhibit of photography, art and crafts by children. Students also enjoyed seeing the fossils of dinosaurs and other extinct species. They also saw models of ostrich eggs and other rare species of plant kingdom. Students got their group pictures clicked and they came back to school with happy faces.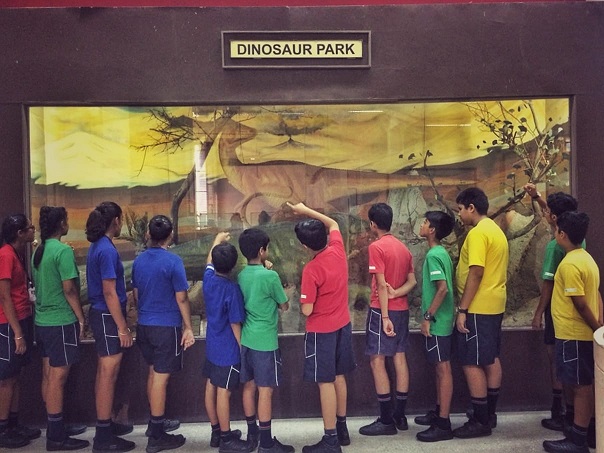 Trip to Spinning Mill
Students of grades 6-8 of ATS Valley School, Dera Bassi visited the Shyam Indospin Ltd, Ballopur road on 21st July 2018. They have been reading in their science books about how the plant and animal fiber is converted into fabric. This trip was planned to give them a 'hands-on experience' of the same. The staff at the factory warmly welcomed the students and showed them every nook and corner of the establishment. Students were given a detailed explanation of the whole process of converting cotton to yarn and then fabric. They saw STP's (sewerage treatment plant), cooling apparatus, laborers removing the trash, ginning process, carding and the humidification room which was initially used to condition the fiber. The students saw how different types of fiber are extracted from plants as well as recycled plastic bottles. Our Students, being inquisitive, asked a lot of questions related to the whole process, which were answered very patiently. Afterward, students were given refreshments. This visit to industry proved to be a great learning experience.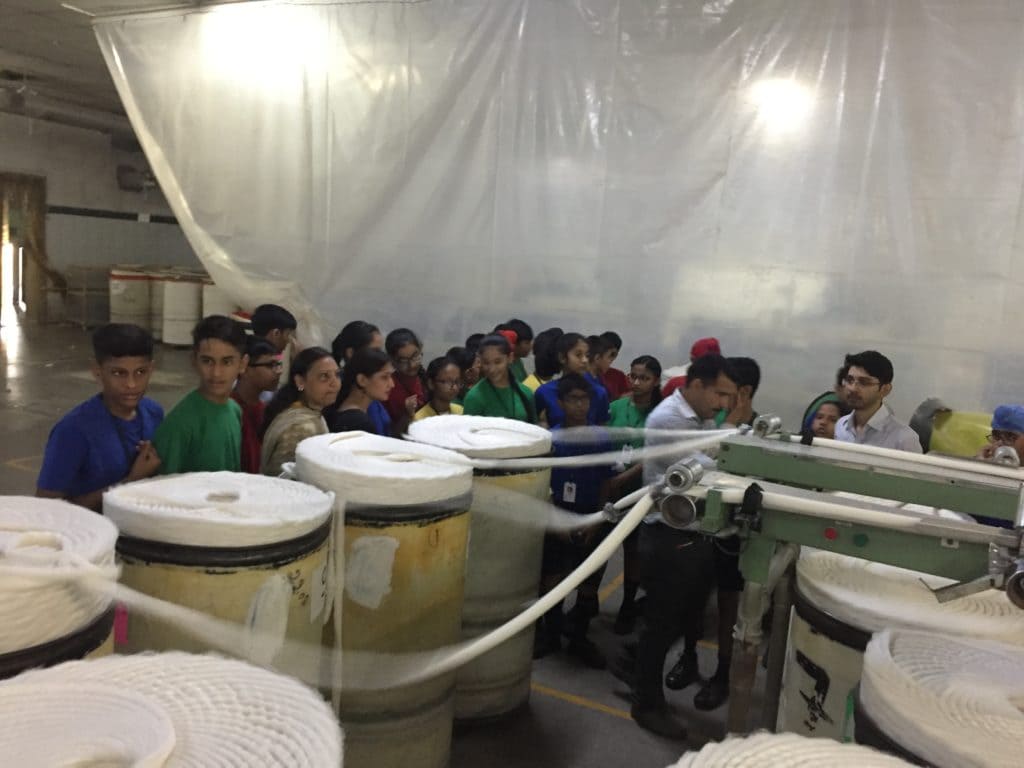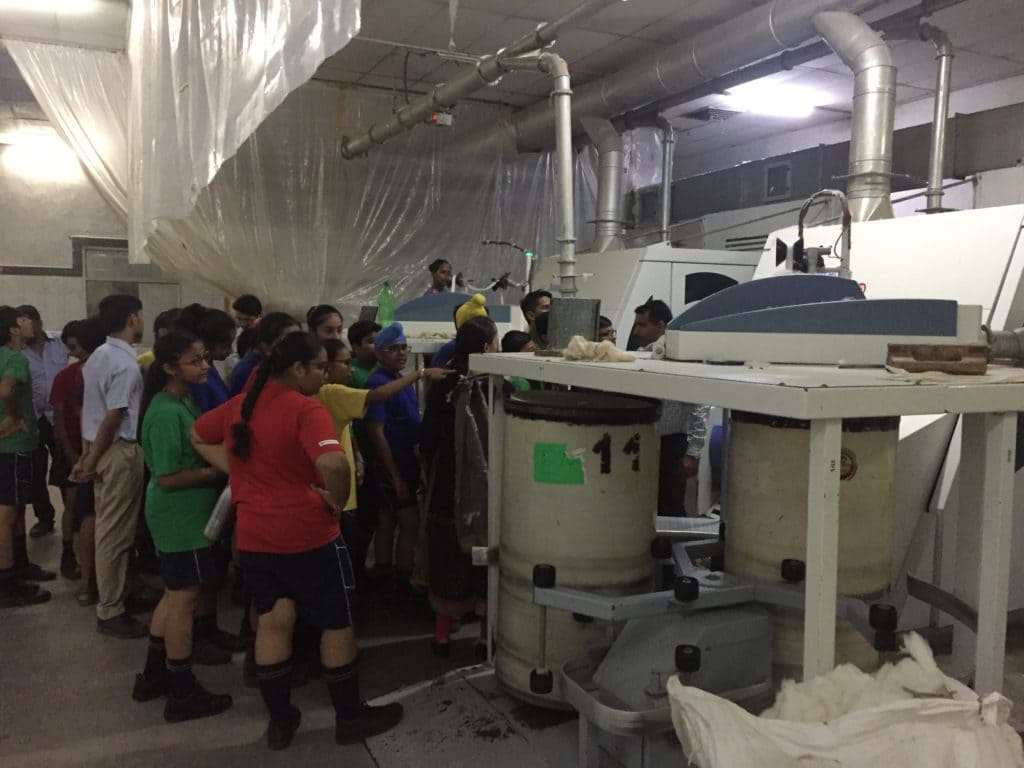 Field trip to a Museum
The students of grade 3 and 4 went to a field trip on 19.7.2018 to the Government Art Museum and Natural History (science) Museum in sector 10, Chandigarh. The school believes in imparting practical knowledge, knowing that children learn more by seeing and observing things around. So the excursion trips help them a lot. In that visit, the students learned about the evolution of man, fossils and saw different types of dinosaurs their preserved teeth, bones and eggs too. They also saw the currency of ancient India and the sculptures from the 1st and 2nd century. Overall it was a great experience for the students and they learned a lot from that visit.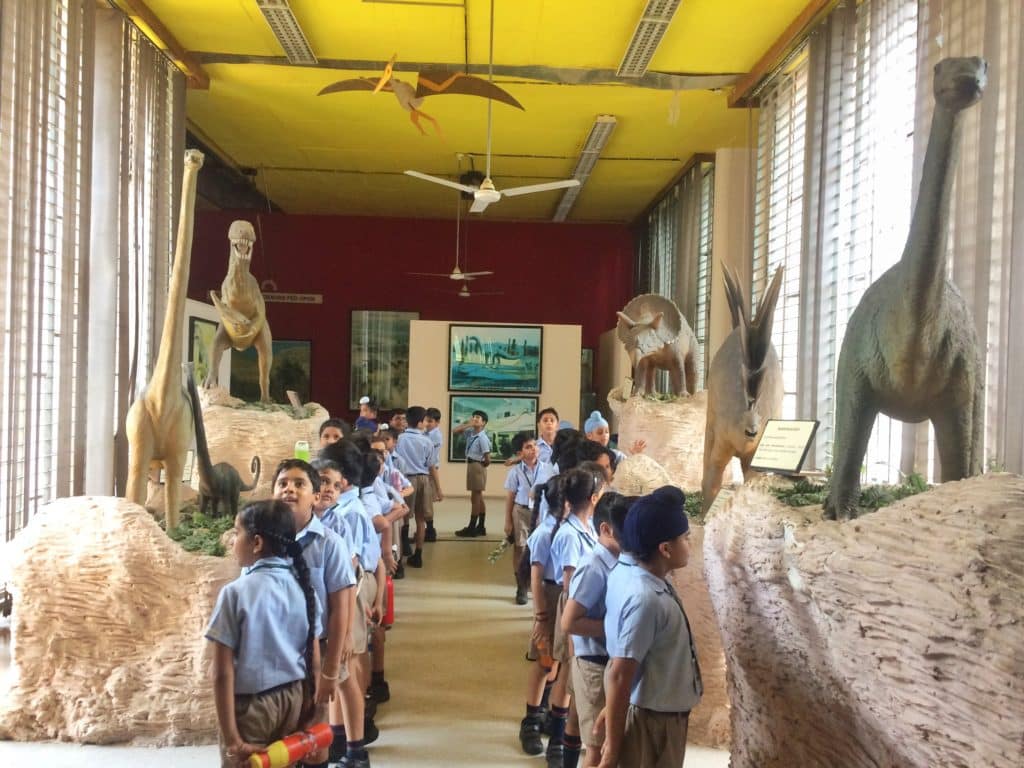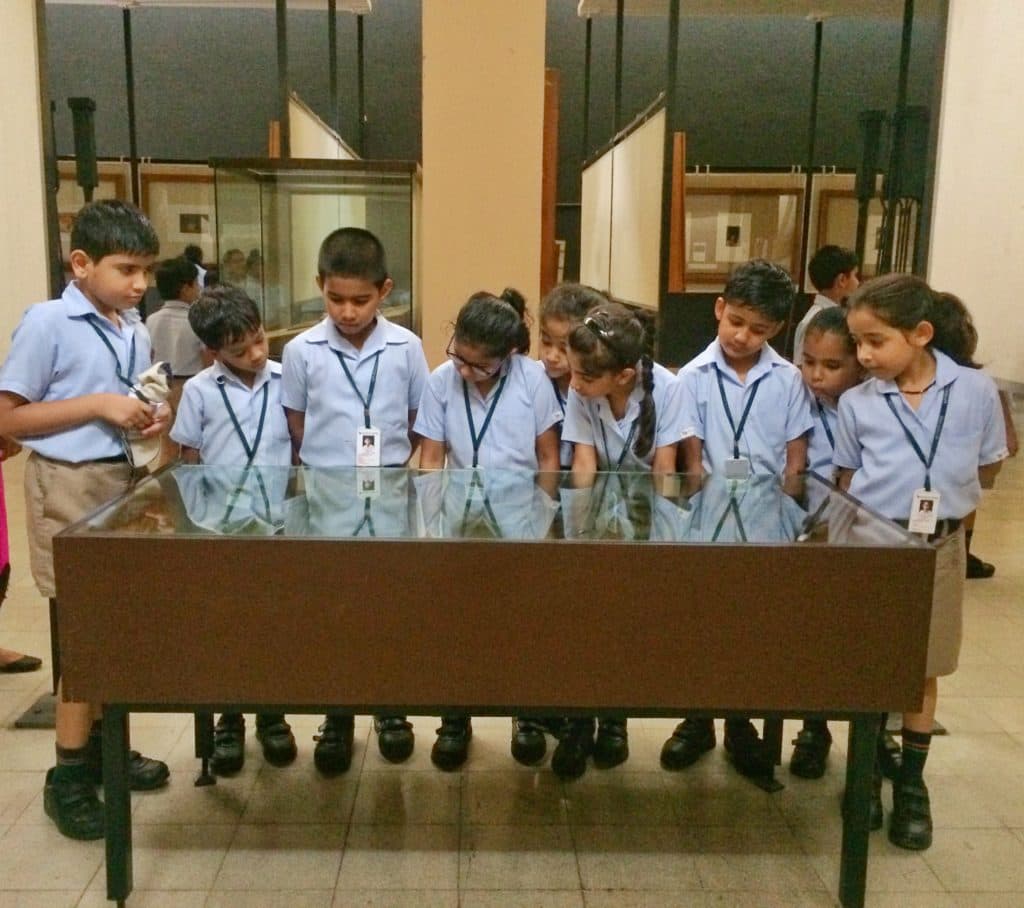 Visit to the Post Office
As we all know that in today's time, everybody uses phone and internet to contact and to send messages to their near and dear ones, thereby reducing the use of postal services. In order to teach our students about age-old postal services, we planned an educational trip to post office for Grade 2 students of  ATS Valley School, Dera Bassi. Before going there, the school provided the students with postcards to write messages to their parents. All the Students were very excited about that trip.Mr.Ashwin Kumar (Postal Assistant) guided the students inside the post office and informed them about the process of sorting the letters, parcels and various duties of the postman. In the end, the students dropped their postcards in the letterbox. It was a delightful experience for the students.